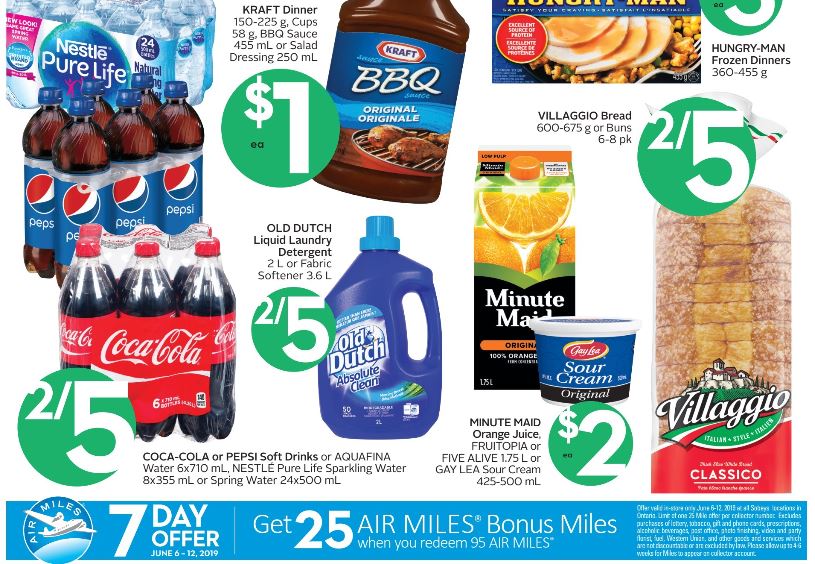 At Sobeys Ontario from June the 6th to the 12th, redeem 95 cash miles for $10 off your purchase, and get a bonus of 95 Air Miles reward miles.
I can't read the fine print on this one and I don't have the actual flyer in hand, so I'm not sure whether you will receive 25 bonus Air Miles for every 95 that you redeem, or if it's a maximum of 25 bonus Air Miles per day. If it is capped at 25 per transaction you should at least be able to take advantage of this offer once per day this week.
Here are some of the deals in the flyer for this week that you might want to redeem your Air Miles on:
Extra Lean Ground Beef $4/lb
Asparagus $1.99/lb
Kraft BBQ Sauce $1
Gay Lea Sour Cream $2
Cedar Bakery Pitas $1
Allan Bagged Candy $1
Dare Breaktime Cookies $1
Heinz Seriously Good Mayo $3.49
Pampers or Huggies Wipes 3/$10
Michelina's or Swanson Meat Pies $1
Click here to view the Sobeys Ontario flyer that begins tomorrow.