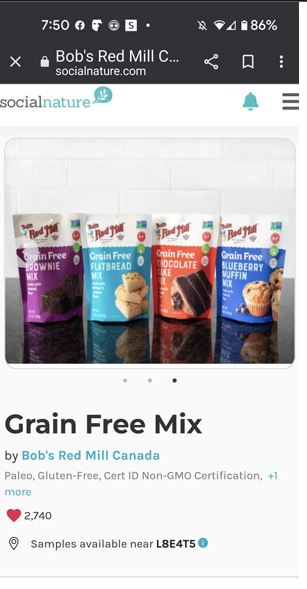 Social Nature Canada has a new sample and review opportunity available if you qualify, and this one is for Bob's Red Mill Canada Grain Free Mixes.
To see if you qualify for the opportunity you can sign in to Social Nature through the link below. You will be asked a series of questions that will determine whether or not you are eligible for this one. If you don't have an account you can still qualify for this sample if you create one now.
If you are accepted to review the product, you will receive a voucher by mail with which you can pick up the product for free. These vouchers will be sent out mid April. Once you receive your voucher you can try the product and review it within two weeks by logging in to your Social Nature account. It might be a good idea to ensure that you will be able to find the product at stores near you before you apply, as failure to complete the review may result in fewer opportunities in the future.
Click here to sign in to your Social Nature account.