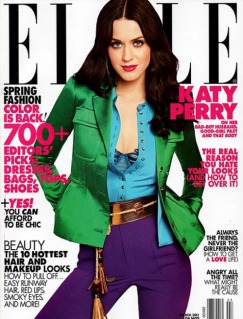 Not that Katy Perry is the fashion plate for the masses, but a major trend for this Spring, as seen on the March cover of Elle is colour…finally!  I'm sick of seeing a sea of black, puffy coats walkin' 'round.
(Personally, I really try to steer clear of wearing all black…unless of course, I'm at a funeral or work! 🙁 )
In addition to the colour trend is the way it's worn which is known as colour blocking.  Basically, it's wearing blocks of colour in order to make a fashion statement.  There doesn't seem to be any quick and hard rules to this trend so you can pair rich jewel tones, as pictured above, or even do a monochromatic palette, i.e. different shades of the same colour.
Colour blocking can also be incorporated within a clothing item, for example a dress that is purple on the top and orange on the bottom.  The key to colour blocking is boldness, so a top with microscopic stripes doesn't count!
Warning:  This trend is definitely not for the shy, wallflower types!  In fact, colour blocking is a much bolder look from the Springs of yesteryear, re:  black and white, pastels, wash-out-beige, and other muted tones.
If you want to try out colour blocking this Spring, but aren't as bold as Katy, take baby steps.  Try mixing a bold coloured skirt – corals are also a HUGE trend this season! – with a taupe top or vice-versa.  (I find taupe fresher than khaki!)  Take some chances this season by wearing some colour!