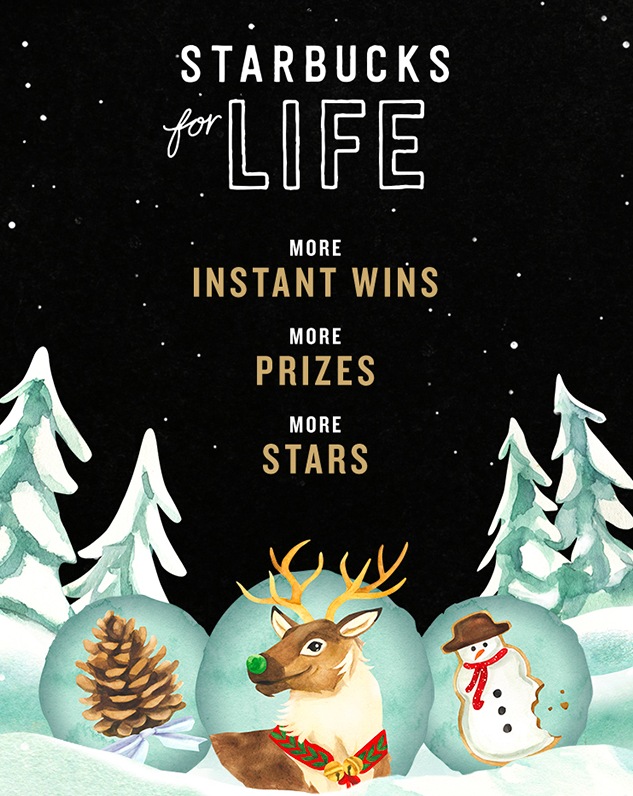 It's baaaack…! The Starbucks Canada Starbucks For Life Contest is coming back and with it are even more chances to win instant prizes, or even the grand prize of, as the title of the contest suggests, Starbucks for LIFE.
The contest begins on December 5th and will be running until January 8th, 2018 and to qualify for your chance to play all you have to do is make a purchase at Starbucks Canada (or, you can follow the instructions on rules page for an option to enter without paying).
There are nine different categories of prizes that you can win in this contest and you will also have a number of 'challenges' that you can do throughout the contest period to win yourself more chances to play to win these great prizes.
The prizes are as follows:
Starbucks for Life (only 1) – this one is valued to be worth $59,021!
Starbucks for a Year (only 2)
Starbucks for 6 Months (only 3)
Starbucks for 3 Months (only 5)
Starbucks for a Month (only 10)
Starbucks for a Week (only 50)
125 Bonus Stars (only 2500)
75 Bonus Stars (only 5000)
and 50 Bonus Stars (only 7500)
You can read more about the contest and the different ways that you can earn more chances to play and win here. Also, remember that each potential winner of any prize, more specifically the grand prize, will be asked to answer a skill testing questions to be eligible for the prize.