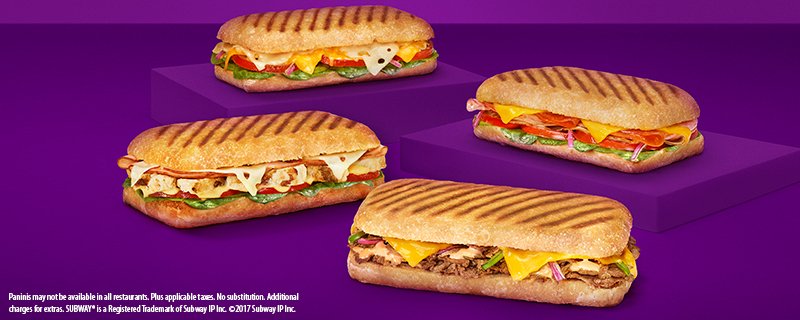 This may be a publicity stunt to detract attention away from Subway Canada's previous reputation with 'transparency', but it sure is a delicious sounding one if that be the case. Subway is introducing four new paninis to their menu, which are being described as gourmet sandwiches as they will feature the freshest vegetables, quality meats and melted cheese.
The sandwiches will include:
Chipotle Steak & Cheese: 100 per cent Canadian steak, green peppers, red onions and cheddar cheese on the new ciabatta bread
Triple Cheese: Cheddar, Swiss and Monterey cheeses, baby spinach, red tomatoes and crunchy red onions
Chicken Cordon Bleu: Canadian ham, grilled white meat chicken strips, Swiss cheese, baby spinach and tomatoes drizzled with creamy honey mustard
Italian B.M.T. Melt: 

Genoa

 salami, pepperoni, ham, cheddar cheese, spinach, tomato and red onion drizzled with house sandwich sauce
This is all part of a rebranding strategy that Subway Canada's Senior Marketing Director described as "a declaration of our commitment to the sandwich." She described how there are a number of "exciting" changes coming to Subway's across Canada, including new packaging and uniforms in their sandwich shops.
The gourmet paninis will be touring across Canada in a truck called the Panini Express. Beginning in Toronto and making their way east to Charlottetown, and then back west to Vancouver, the paninis will be showcased in a one-of-its-kind transparent food truck so that customers can see how the sandwiches are prepared from start to finish.
You can follow the Panini Express tour on Subway Canada's Twitter and Facebook pages.
Click here to learn more about the paninis from Subway Canada.