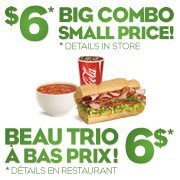 From Subway Canada's Facebook page:
Can you believe it is October already? Need something to help keep the chills at bay? Try our soup, 21 oz.fountain drink and 6″ classic sandwich combo for the "heart warming" price of only $6.
Now that the weather is chilly, a hot soup and sandwich would hit the spot for a hearty lunch. Meatball marinara and cream of broccoli here I come!