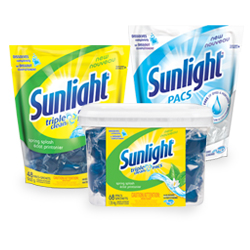 Last week, the Lee family received a sample of Sunlight laundry pacs and their 21 month old daughter found it, opened it and ate the laundry pac (likely thinking it was candy) spending almost a week in intensive care before thankfully recovering.  You can read the full story here.
The family, while taking responsibility for not having it out of the child's reach themselves, claim that every toxic item should be childproof and Sunlight have discontinued all mail-outs and future sample programs while they look into the packaging.
I don't know about you, but I take my family's safety as my own responsibility.  Most laundry detergent is not childproof (and in my case, certainly not cat proof – they will chew through any box of detergent just because it is cardboard), especially once the container has been opened.  I take the little elastics off the sample packages of laundry detergent and put them into a plastic container to keep them dry.  It is second nature, just like writing the date on food I freeze so I know how long it is has been in there.
My heart goes out to this family for the pain and worry this must have caused them, but are sample packs really to blame?  Is it possible to child proof everything?