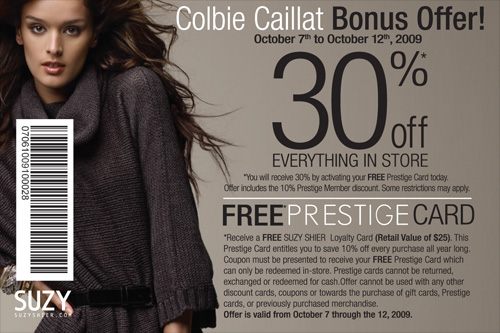 Thanks to stasymipip for finding this super great deal!
To get your free Suzy Shier Prestige Card (a $25 value) and also a coupon for 30% off your next purchase all you have to do is enter a contest.  With the Prestige Card you will enjoy a 10% discount at Suzy Shier for a whole year.  I've never bought the Prestige Card before because I didn't think I would buy enough in a year at Suzy Shier to make it worth getting but hey, if they want to give me one for free I will definitely take it!
This promo is valid from October 7-12 and the coupon must be redeemed during this time.  When you submit your entry you will get the coupon page to print.  There's one in English and one in French.
Click here to enter the contest and get your Suzy Shier coupon.