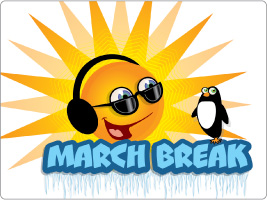 It's almost that time of year again when the kids get to take a week off school to enjoy the winter and pack in some exciting activities. A lot of people take this opportunity to go down South for the week, but if you're like me you need some ideas closer to home that wont break the bank.
That being said there are a lot of activities going on in most communities that can get your family active and out of the house. Here are some of the activities I found:
1. YMCA March Break Day Camps-check your local YMCA because most of them offer day camps throughout the march break that have fun activities for kids. It's getting them active and it's a chance to meet new people.
2. Local Libraries offer a ton of activities for kids all year round and even more activities during the March Break. A lot of the activities provided by your local library are free and are worth checking out!
3. Check your local Community Center for events during the break. Most offer more public swimming, skating or drop in times for team sports. It's a great way to stay active this March break.
4. Volunteer in your community. It's a rewarding experience to help someone out and there are tons of places you can volunteer your time with your family this March Break.
For more great things to do with your family this March Break check your city's local website.
If you have any additional ideas please  share them so everyone can take advantage of their March Break.
*Bumped to the top because its March break