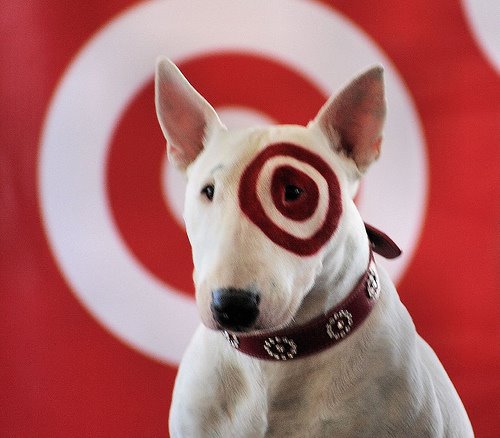 Target announced today what stores will be the first of the Target launch in Canada!  There will be 105 stores spanning across most provinces.
Manitoba
• Shoppers Mall, Brandon
• Grant Park, Winnipeg
• Kildonan Place Shopping Centre, Winnipeg
• Polo Park Shopping Centre, Winnipeg
• Southdale Centre, Winnipeg
New Brunswick
• McAllister Place, Saint John
Newfoundland and Labrador
• Corner Brook, Corner Brook
• Cabot Square, St. John,s
Saskatchewan
• Northgate Mall, Regina
• The Centre, Saskatoon
Alberta
• Chinook Centre, Calgary
• Forest Lawn Shopping Centre, Calgary
• Market Mall, Calgary
• Shoppes at Shawnessy, Calgary
• Signal Hill Centre, Calgary
• Sunridge Mall, Calgary
• Bonnie Doon, Edmonton
• Kingsway Garden Mall, Edmonton
• Mill Woods Town Centre, Edmonton
• Prairie Mall, Grande Prairie
• Bower Place, Red Deer
• St. Albert Centre, St. Albert
• Sherwood Park Mall, Sherwood Park
Nova Scotia
• Bedford Place, Bedford
• Mic Mac Mall, Dartmouth
Ontario
• Durham Centre, Ajax
• Aurora Shopping Centre, Aurora
• Bramalea City Centre, Brampton
• Shoppers World Brampton, Brampton
• Trinity Common, Brampton
• Burlington Mall, Burlington
• Millcroft Centre, Burlington
• Cambridge Centre, Cambridge
• Woodbine Centre, Etobicoke
• Gates of Fergus, Fergus
• 175 Stone Road W., Guelph
• Centre Mall, Hamilton
• South Hamilton Square, Hamilton
• Hazeldean Mall, Kanata
• Cataraqui Town Centre, Kingston
• Lindsay Square Mall, Lindsay
• Masonville Place, London
• Westmount Shopping Centre, London
• Milton Mall Shopping Centre, Milton
• Erin Mills Town Centre, Mississauga
• Square One, Mississauga
• Meadowlands Shopping Centre, Nepean
• Upper Canada Mall, Newmarket
• 1899 Algonquin Ave., North Bay
• Centerpoint Mall, North York
• Orillia Square Mall, Orillia
• Place D,Orleans, Orleans
• Five Points Mall, Oshawa
• Bayshore Shopping Centre, Ottawa
• Billings Bridge Plaza, Ottawa
• RioCan St. Laurent, Ottawa
• Hillcrest Mall, Richmond Hill
• Bridlewood Mall, Scarborough
• County Fair Mall, Smiths Falls
• Niagara Pen Centre, St. Catharines
• Stratford Mall, Stratford
• Sudbury Supermall, Sudbury
• Intercity Shopping Centre, Thunder Bay
• Cloverdale Mall, Toronto
• Shoppers World Danforth, Toronto
• East York Town Centre, Toronto
• Flamborough Power Centre, Waterdown
• Conestoga Mall, Waterloo
• Taunton Gardens Power Centre, Whitby
• Devonshire Mall, Windsor
Prince Edward Island
• Charlottetown Mall, Charlottetown
Quebec
• Galeries d,Anjou, Anjou
• Faubourg Boisbriand, Boisbriand
• Carrefour Angrignon, Lasalle
• Mega Centre Notre-Dame, Laval
• Galeries Chagnon , Levis
• Place Longueuil, Longueuil
• Place Alexis Nihon, Montreal
• Place Vertu, Montreal
• Terrarium Shopping Centre, Pointe Claire
• Les Galeries De La Capitale, Quebec City
• Place Fleur De Lys, Quebec City
• Place Laurier, Quebec
• Le Carrefour Rimouski, Rimouski
• Promenades Saint-Bruno, Saint-Bruno-de-Montarville
• Carrefour Saint-Georges, Saint-Georges
• Carrefour Richelieu, Saint- Jean sur-Richelieu
• Carrefour du Nord, Saint Jerome
• Carrefour de L,Estrie, Sherbrooke
• Les Rivieres Shopping Centre, Trois Rivieres
British Columbia
• Abbotsford Power Centre, Abbotsford
• Metropolis at Metrotown, Burnaby
• Discovery Harbour Shopping Centre, Campbell River
• Cottonwood Mall, Chilliwack
• Coquitlam Centre, Coquitlam
• Driftwood Mall, Courtenay
• Tamarack Mall, Cranbrook
• Scottsdale Mall, Delta
• Willowbrook Shopping Centre, Langley
• Haney Place Mall, Maple Ridge
• Nanaimo North Town Centre, Nanaimo
• Pine Centre, Prince George
• Oakridge Shopping Centre, Vancouver
• Village Green Mall, Vernon
• Tillicum Mall, Victoria
Are you looking forward to the change?