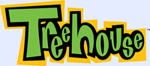 If you're a parent, chances are you have to sit through more children's programming in a week than you ever would in your life if you had the chance. That's not to say all of it is bad – in fact, some of it is quite good. In Canada, we're fortunate enough to have a number of excellent channels at our disposal that commit part of their programming to childrens television. With each of these channels being so different, it's hard to know which of these is most suitable for your family. Luckily, we here at SmartCanucks have the inside track, and we're going to share it with you in our seven part series "The Best Canadian Kids Channels."
Offering 24 hour a day children's programming, all aimed at toddlers, isn't an easy task. But Treehouse pulls not only that off, but offers a Video On Demand channel as well! Treehouse On Demand offers a good selection of the station's most popular original and exclusive shows (ex. Max & Ruby, Toopy & Binoo, Pocoyo) absolutely free of charge. Both stations offer a healthy mix of popular programs (Dora, Diego, The Backyardigans) and original content. Given the 24-hour, always toddler safe (and always high quality) nature of Treehouse, it's generally become the default kid's channel for parents of kids under five.
In addition to Treehouse and Treehouse on Demand, a new service has recently rolled out, Treehouse Direct. Treehouse Direct allows you to stream episodes of certain shows right to your PC. Direct is a little finicky still because it's new (for example, it won't allow me access as it thinks I'm not from Canada), however I have no doubt that it will evolve into a service just as dependable as their On Demand has been.
If you're not sure if you have Treehouse On Demand, call your cable provider. The Treehouse website not only offers schedules, contests and games — but they also have a fantastic forum community for parents. You can check it out, as well as Treehouse Direct, online at treehousetv.com.
This article was written by our very own Jim Squires. To check out more of his writing visit the pop culture blog Fjetsam, now updated daily.