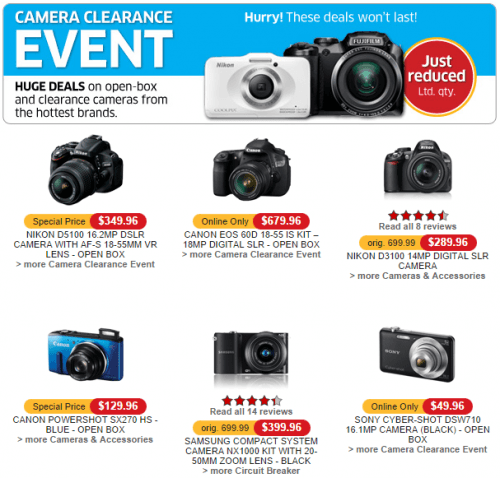 The Source Canada is having a Huge Camera Clearance Event! For a limited time, or while supplies last, you can enjoy HUGE Deals on Open Box and Clearance Cameras from your favourite brands like Canon, Nikon, Sony and more.
Some of the Cameras on Clearance Sale at The Source Canada Online include:
Nikon D3100 14MP Digital SLR Camera – was $699.99 – now $289.96
Samsung Compact System Camera Kit with Zoom Lens Black – was $699.99 – now $399.96
Fujifilm Finepix Camera – Open Box – only $99.96
Canon Powershot Waterproof Digital Camera Blue – was $379.99 – now $199.96
Nikon Coolpix White – only $59.96
Nikon Digital SLR Camera – was $849.99 – now $359.96
and more!
And you will also enjoy FREE standard shipping on orders over $30 from The Source Canada Online – which you will automatically receive on most of these items since they are over $30. Nowadays Cameras have a lot to compete with – most of the smartphones have excellent cameras on the phone itself, and it saves people from having to carry two separate devices.
It is also much handier to just quickly take your phone out and snap a picture than it is to start frantically searching for your camera and risk missing the candid photo opportunity.
If you are in need of a new Camera, then check out this offer from The Source Canada Online!