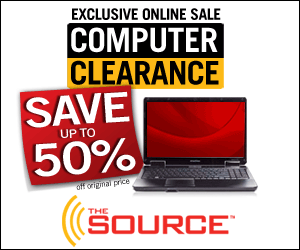 If you have been looking to buy a new computer, now is the time to buy! TheSource is having an exclusive online laptop clearance sale, starting on April 1st.
You will want to act quickly, because this sale will only continue until their stock is depleted.
There are some really amazing deals to be had. You can save up to 50% off the regular price!
For example…..you can scoop up the ACER ASPIRE ONE AO751H-1960 NETBOOK for only $234.99 which is a huge markdown from the regular price of $469.99!
—————————————————————————
Click here to check out this incredible sale!.