Over the past few weeks we've had some posts letting people know about the Annual $5 T-shirt Sale at Threadless.com. While the deals were good (and still are — the sale continues!), a number of our readers have come back and commented about the outrageous customs fees they were required to pay at the door.
To the best of my knowledge, the commenters that have been saying it is a UPS-related issue are dead right. Of all the deliveries I receive from the states each year, only the ones from UPS seem to come with a mountain-sized customs fee. I once ordered a $30 bag from Manhattan Portage and had to pay $45 in customs. It was BEYOND outrageous. That's why I go out of my way to avoid UPS whenever possible.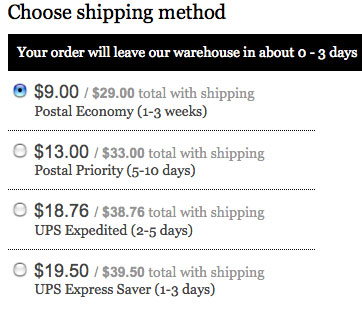 Threadless offers four shipping choices — two through UPS, and two through the US Postal Service. While it'll be slower and without a tracking number, you'll most likely avoid the customs fee by choosing the "Postal" options. I'm cheap, so I went economy anyways. My first order hasn't arrived yet, so I can't confirm for a fact that no customs fees occur through this method. From my understanding and past experience with other US companies though, it's the safest bet.
My apologies to all of you that have incurred customs fees. If it makes you feel any better I'll likely be fighting with a UPS driver today over fees from a Christmas purchase unrelated the Threadless later today. I ordered it from a .ca site, so why the heck is it coming UPS from Colorado?? We are not amused.
As far as Threadless shipping goes, they've just upgraded their sale again to include a $7 discount for postal economy shipping on international orders over $50. The sales been on a while now, so this is probably the last bump up in savings they'll offer before they take the whole thing down.