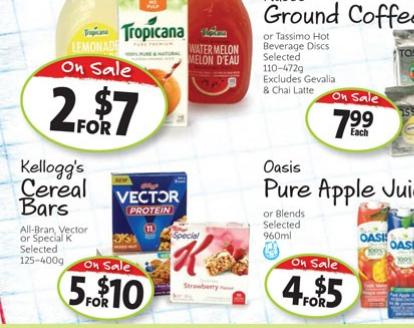 Hers is an opportunity to get free Vector Protein bars from Thrifty Foods this week! Until September the 29th, Thrifty Foods has Vector Protein bars advertised for 5 for $10. At $2 each, this is already a really low price, but there is a coupon that makes them free.
You may already know that Kellogg's Canada has a coupon portal, with coupons that you can print through WebSaver.ca. This portal currently has a printable coupon for $4 off when you purchase 2 boxes of Vector bars, making them free with the coupon. If you have to buy them in multiples of 5 then of course you will need more than one coupon. But, if you can price match them elsewhere at $2 a box then you can just pick up a couple, and use one coupon for every two that you purchase.
WebSaver printable coupons do have a limit of one coupon per account, but no limit per computer.
Click here to view this offer in the Thrifty Foods flyer, valid until September 29th.
Click here to print the coupon for $4 off the purchase of two boxes of Vector bars.