Tim Hortons Roll Up the Rim to Win 2008 started today 🙂 Time to start guzzling loads of coffee each day!
A blogger known as dawger started an interesting blog where he tracks his Roll Up the Rim winnings. I think it's a fun idea so I've decided to compete with him. Let's see who's the luckier person 🙂
I'll buy one drink each day and post a picture of the cup. Today I bought a double double medium coffee and I didn't win anything. Neither did dawger so the score's 0 – 0.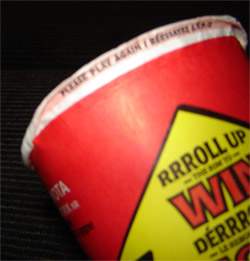 Click here to visit the Adventures in Roll Up The Rim To Win blog