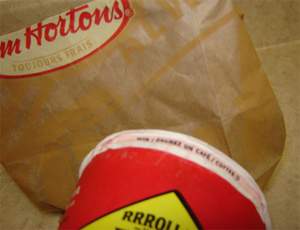 It was snowing and slippery today and I didn't have the right shoes on, yet I braved the weather and walked to Tim Hortons to keep my challenge with dawger going. It was worth it! I won a free coffee 🙂
That makes the score: dawger 0 – Boo Radley 1
Michelle also left a comment about requesting a free cup from Timmies this year:
Hey Boo they are offering FREE cups again(I found this in the rules):

2. NO PURCHASE NECESSARY TO PLAY: In Canada, obtain a FREE Tim Hortons contest cup and/or a copy of the official rules, by writing to:

Tim Hortons Contest Cup, P.O. Box 9899, Saint John, New Brunswick, E2L 4P8.

All requests for a Free Cup must be postmarked by May 3, 2008 and received by May 11, 2008. Limit of one request per envelope with sufficient postage, while supplies last. All requests must include a postage-paid, self-addressed envelope.

It would also be interesting to see if anyone wins off of these "FREEBIES"!