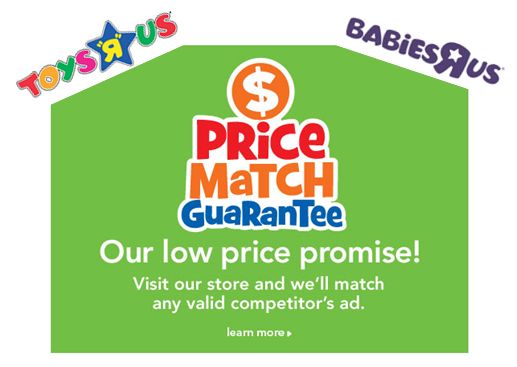 Toys R Us Canada now offers price matching in Canadian stores. To receive a price-match offer from TOYS-R-US, a consumer must bring in evidence that another Canadian based retailer is offering the item at a lower sticker price than TOYS-R-US, special sales and clearance deals do not apply.
Toys R Us Canada Price Matching Policy
Item must be identical
An item does not have to be on sale to be price matched
A current Canadian retailer's advertisement must be presented (printed or on mobile) and must show price currently in effect including:

Catalogue
Canadian only online retailer and/or flyer
Receipt from another retailer showing product description, price and date
We do not accept shelf labels or pictures of shelf labels

Retailer must have the advertised item in-stock and be available for immediate sale in the same local market area
The Price Match Policy DOES NOT apply to the following:

Offers with limited and/or minimum quantity
Bundled offers
Advertising errors and/or misprints
Rebates or free/bonus/gift card offers
Coupons
Rainchecks
Special financing offers
Liquidation/Clearance centres

The price match cannot be combined with other Toys"R"Us offers including coupons
Where a price match with a retailer is applied after purchase, the difference will be refunded in the same method as the original payment within 14 days of original purchase date. Original receipt is required.
 Toys R Us Canada Refund Method
If your original payment was made by cash, debit or credit card, then your refund will be returned by the same method
If your original payment was made by merchandise credit, gift card, eGift Card, gift receipt or Paypal, then your refund will be returned by merchandise credit.
Details on Toys R Us Canada Price Matching Policy here