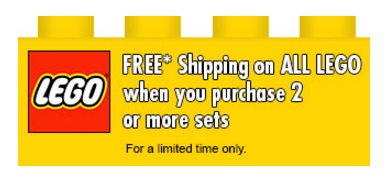 If you like LEGO products, and enjoy the ease of online shopping, Toys R Us Canada has a great offer for you. Now until March 28, 2016, you can enjoy free shipping on LEGO when you purchase 2 or more sets. Simply just add the LEGO sets you want, and proceed to checkout to receive discount. Shop now and enjoy free shipping (up to $20) when you get any 2 LEGO items. This offer is valid only while supplies last. Some exclusions may apply. Qualifying products will have "Free Shipping when you buy any 2 LEGO items" appear in red, at checkout
This week Toys R Us has a sale on this LEGO – Duplo-Beach Racing set. This set includes Captain Hook, Skully, 2 sail wagons, a buildable tree, and assorted LEGO Duplo bricks. This set would normally cost $17.48, now on sale for just $9.98!
There's another great deal at Toys R Us! This Little Tikes – Picnic on the Patio Playhouse includes pretend  burners, oven, cupboards, fireplace, a working door, mailslot and picture windows. This used to be $329.99, now $100 off, for just $229.97!
Spend $49 on more on any order and get shipping free.
Click here to shop at Toys R Us.