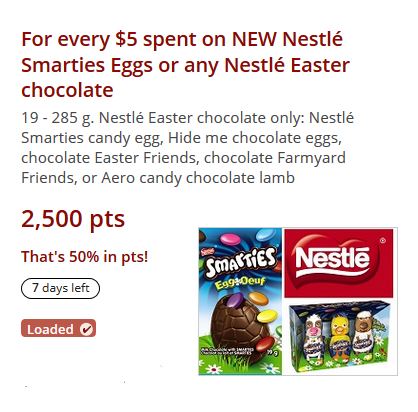 Be sure to log in and load your new PC Plus offers as some of us got a great offer worth up to 50% off Nestle Easter chocolate!
The offer is a bonus offer sent to select customers and is valid for 2,500 PC Plus points for every $5 spent on the new Nestlé Smarties Eggs or any Nestlé Easter chocolate.Included chocolate items are 19 – 285g Nestlé Smarties candy egg, Hide me chocolate eggs, chocolate Easter Friends, chocolate Farmyard Friends, or Aero candy chocolate lamb and is valid at any store with PC Plus.
If you shop somewhere you can pricematch, Nestlé Smarties candy egg or Aero Lambs are just $0.67 at Walmart this week.  They were the same price in the Ontario No Frills flyer last week so is likely a regular price, but useful if your store has a higher price.
Click here to see if you received this offer