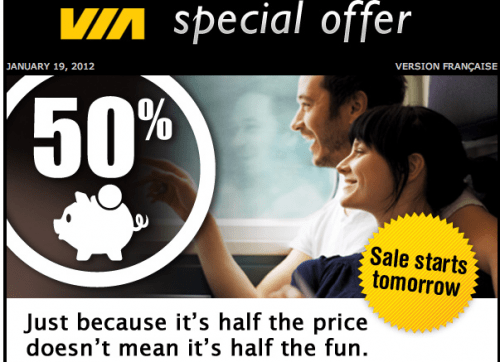 Via Rail is having another half off sale!
Book before Thurs Jan 26 and get 50% off the adult regular fare in all service classes for travel within Canada between Jan 23 – May 31.
– To receive the discount, you must book in "Economy – Supersaver Fare" or "Business – Discounted Fair".
– The price of the ticket including the 50% discount will be quoted automatically if the trip meets all of the conditions of this promotion.
– Tickets may be picked up at a self-service ticketing kiosk or at a VIA Rail ticket counter.
– If booking directly with a VIA telephone sales office or at a VIA station, advise the agent that you are requesting the 50% sale fare.
Please note that tickets must be purchased at least 3 days in advance (but no later then Jan 26).
Travelling by train might take a bit longer, but it's definitely a great way to see how beautiful our Country is!
Too book your ticket or to find out more information/conditions, please Click Here!