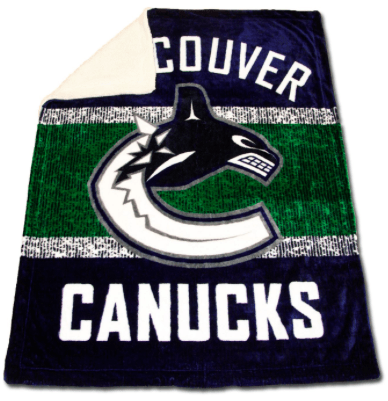 While they may no longer be qualifying for the Stanley Cup this year, the Canucks, Oilers and Leafs will be back at it again next year and all you dedicated fans will be cheering them along either from the comfort of your home, or alongside them at the rink. No matter where you are cheering from, having an NHL Ultimate Fan Luxury Throw to wrap yourself in will surely make you the envy of all your friends. Right now, Walmart Canada is selling select NHL Ultimate Fan Luxury Throws for just $13, though they are normally sold for $25.
There are three different blankets available online at Walmart as of the time of this posting, an Edmonton Oilers throw, a Vancouver Canucks throw, and an Original Six throw; unfortunately, all of the Leafs fans snapped up the Toronto Maple Leafs throw. All of these throws measure 50″ x 60″ and have a super sherpa backing to provide you with ultimate comfort for your Ultimate display of fandom.
Walmart offers free-shipping on all orders that are $50 or more, otherwise shipping will be $4.97.
Click here to begin shopping for NHL Ultimate Fan Luxury Throws.
Also