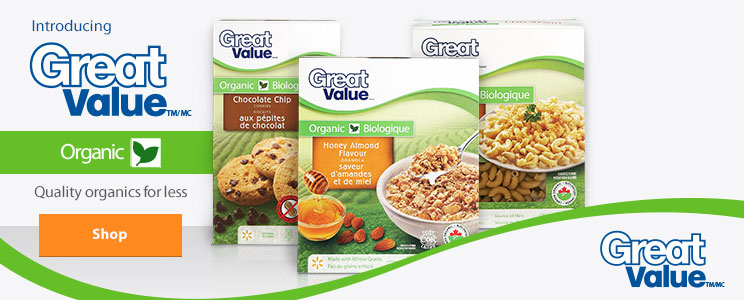 While the Walmart Organic line was introduced last month, it is starting to roll out to all stores now and you can pick up organic versions of your Great Value favourites at decent prices.
Walmart offers an assortment of packaged organic products, each Canadian certified organic, starting at just $1.97.  The line includes cereals, granola bars, pasta, pasta sauces and more.
They are trying to make healthier and organic food more affordable and you can pick up
Great Value Organic Red Lentils $1.97
Great Value Organic Whole Chia Seeds $4.77
Great Value Organic White Rice Flour $3.47
Great Value Organic Rotini $1.97
Great Value Organic Chocolate Chip Cookies $3.47
While these are regular prices, they will be offered on sale as with most Great Value products.  You can see the full line up of Great Value Organics here.