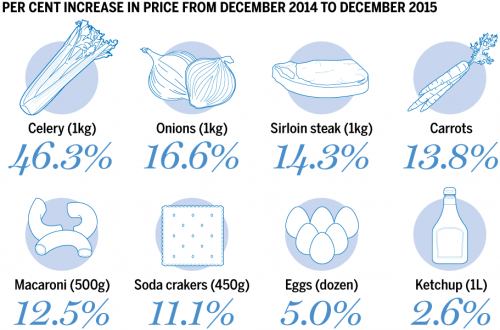 Earlier this week we wrote a post stating that cauliflower prices were back to normal but we, as grocery shoppers, should beware that price increases are on the way. This image above from the Financial Post demonstrates the percent increase in price from December 2014 to December 2015. You can see that celery took a huge hit and we ended up paying 46.3% more this past December than in 2014. Items that have smaller increases are processed such as ketchup or salad dressing.
Canadians paid 4.1 percent more for food purchases mainly because of the high price on fresh fruit and vegetables (aka cauliflower and celery) that are being shipped from warmer climates. The Bank of Canada Governor, Stephen Poloz, said on Wednesday that a 'sharp currency deterioration could feed broader price hikes that unhinge inflation expectations'. With that being said, get ready to see high prices on food in the very near future and think about ways to save!
Click here to read more from the Financial Post.