Well.ca is offering a promo code, JUNEFREE, this week that will save you $10 off on your purchase of $40 or more, plus, they will also be providing you with free-shipping since your order will be over the minimum requirement of $29.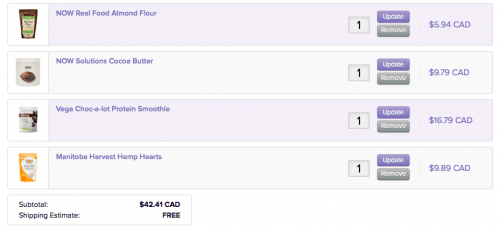 Shopping within the sale section of Well.ca, I was really able to save some money on some of my favourite healthy snacks and natural products. NOW products are on sale for 30% off this week at Well.ca, and I was able to pick up NOW Real Food Almond Flour for just $5.94 (was $8.49) and Now Solutions Cocoa Butter for just $9.79 (was $13.99).
Another hot sale going on this week at Well.ca was the offer where you can save 25% off on healthy snacks, including brands like Kind, Vega, Bob's Red Mill and more. From this sale, I was able to get Vega Chock a-lot Protein Smoothie for $16.79 (was $20.99) and one of my breakfast cereal go-to's, Manitoba Harvest Hemp Hearts for $9.89 (was $10.99).
Using my $10 off promo code from Well.ca, I was able to get all of these goodies for just $32.41. Before, without the sales and without the promo code, an order of this size and quality would've cost me $54.46, meaning I would be saving $22.05.
This promo code will be valid until June 30th, 2015.
Click here to begin shopping at Well.ca.