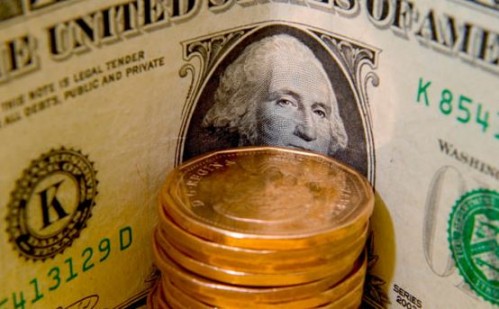 As I reached for my third bottle of $2.97 olive oil, a crowd began to gather, grabbing at the bottles, noticing the deal as well. The next thing on my list was $1.97 bottle of oj, not from concentrate. As with the olive oil, another crowd gathered: "See, that's why you have to shop on Friday afternoon 'cause by Saturday…everything's gone!" said one lady to her friend.
When I left the grocery store, I wondered why these sales resounded with the shoppers. Sure, these were basic items that were on sale, but there was more to it.  Then it hit me…
Why are such essential items, groceries, gas and some other not-so-essential, books/magazines, electronics, shoes, restaurants, etc. so damn expensive here in Canada? As per a recent news story, Canadians are still paying significantly more than Americans for goods.
In addition to the US/CAD price discrepancy, I also find that there is a serious lack of selection here – even in comparison to one of Southern-Ontarians' favourite shopping haunts and also ironically America's poorest cities, Buffalo, NY.  So what gives?
Why are Canadians still paying more even though we've been on parity, if not exceeding, the greenback for quite some time now?  I realise that the retailers claim to do their purchasing 6-months ahead of them and that's why we haven't seen lower prices yet, blah, blah, blah, but why am I still seeing a huge US/CAD price gap when I look at the cover prices of books/magazines now?
(Not sure if I should drag gas prices into this and I haven't filled up in the States, but somehow, I get the feeling that we're getting ripped off at the pumps as well! Apparently, Albertans see the lowest price at the pumps out of the rest of the provinces. However, American gas prices are even lower than that of Alberta's!  With Canada having the second largest gas reserves in the world, why are we paying a premium, as opposed to getting price break?)
With all this goofy pricing, and rising Canadian dollar, is the government still surprised at the number of Canadians who go cross the border to do their shopping?
As Canadians, is there anything we can do to protest these high prices? Or should we just complacently accept the short end of the stick in life and pay up? Unfortunately, I do not have the answer as to why we're being hosed.
Click here to read a CTV News article on this subject. Warning: If you have high blood-pressure, don't read the various comments of examples of the price differences! 😉