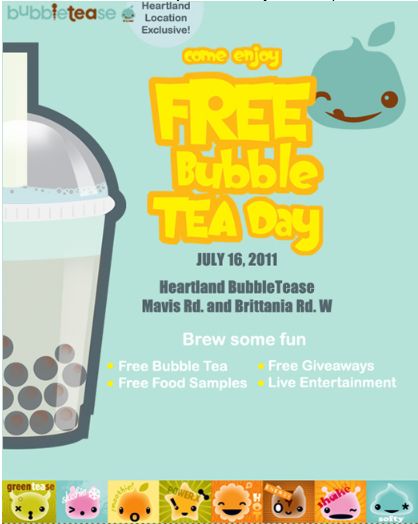 If you like bubble tea and live in the Mississauga area, drop by Bubble Tease (Heartland Town Centre, located at Mavis & Brittania) on July 16th for Free Bubble Tea Day!
Café Bubbletease
5955 Latimer Drive
Mississauga, ON

Believe it, friends!

On July 16th, Bubble Tease invites you to brew some fun with FREE bubble tea & snacks. No catch. No trickery. Just YUM.

Apart from all the free deliciousness, we'll also have live entertainment and performances happening all day long! Exciting, no?

Bring your friends (and their friends) for a day filled with YUM.

See you there!
Thanks to SFARAZ for the heads up on this yummy freebie!