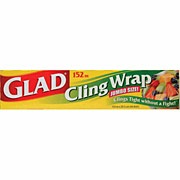 This coming weeks Shopper Drug Mart flyer has Glad Cling wrap 30m on sale for just $0.88 . So if you still have some of the $0.75 coupons that were found in stores awhile back you can get it for just $0.13. This is a great time to stock up. I did a few months back when it was $0.99 and thought that was a good deal!! I guess I was wrong!!
Click here to go to the discussion thread.
Thanks to Sharpie for posting the flyer.