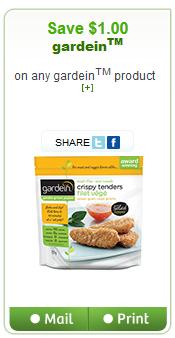 Here is a coupon that frequently comes and goes from WebSaver.ca, that has once again returned. Save $1 on the purchase of any Gardein product with this coupon that can either be printed immediately, or mailed to the address associated with your account. Gardein is a line of vegan and vegetarian foods, with plenty of options to choose from.
I'm really glad they added another mailed coupon because I have had a couple of coupons saved for a while because I did not have four that I was able to select in order to complete my order. If you are in the same boat then maybe this coupon will help you out!
If you choose to print the coupon you will be permitted to print only one per account, with a maximum of two per computer.
Click here to get this coupon for $1 off any Gardein product through webSaver.ca.