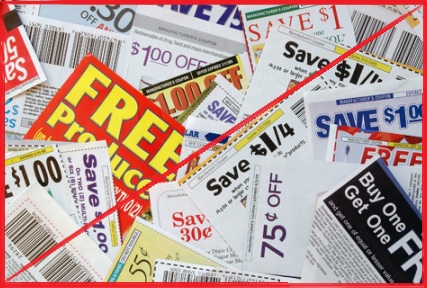 My daughter's school announced in their paper newsletter that they will no longer be offering, well, paper newsletters.  In an effort to be more environmentally friendly, the school has decided the newsletter will only be offered on their website.  My first reaction was "Whaaaat?" and then I quickly decided it was a good idea.  Why not?  It will save a few thousand trees and let's face it, half the time I end up losing that newsletter and looking at it online, anyway.
This seems to be the trend with all "paper conveniences".  Bills, flyers, bank statements and now, coupons.  In the last 5 years there has been a huge shift towards coupons you can show on your smart phone.  In fact, most Canadian retailers are expecting the number of mobile coupons to double in 2013.  Which means many new businesses will be offering this feature to "keep up with the times".
Although I agree it is far more environmentally friendly to use mobile coupons and it will likely take less time to print or cut them out, sort through them, put them in my coupon binder etc., I will still miss them…a lot.  There is something about finding the coupons in a flyer or having them show up in the mail that taps into my primordial need to care for my family.  It's almost a modern day "hunting and gathering" and somehow that seems to be lost when everything shows up on a phone.
Do you think paper coupons are a thing of the past?  Let us know!