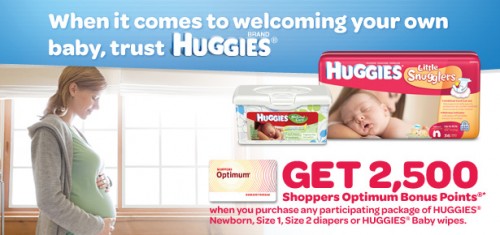 We mentioned this bonus point deal earlier, but the promotion has now been changed to include regular packs of wipes (on sale for $2.99 starting Saturday) since they are pictured rather than just the refill packs.
If you bought these thinking you would get points, please call Huggies at 1-800-558-9177 with your receipt and boxes with you.
It is a pity it was not changed yesterday for 20x. but with over $6.50 worth of points at the December mega redemption, these are a great buy.  No coupon needed for points, they should be automatically applied in-store.

Oct 23: Shoppers Drug Mart have now changed this promotion to one per card