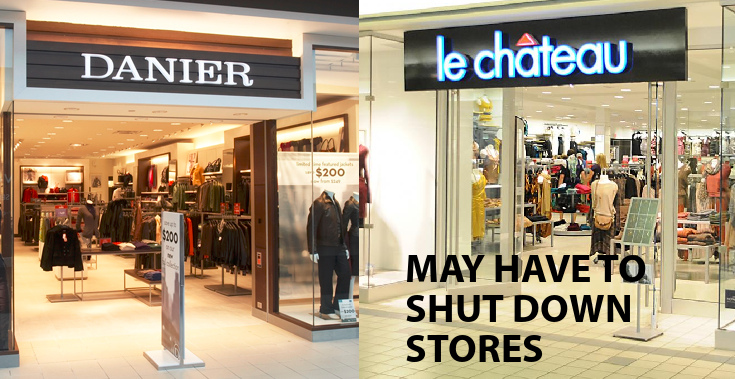 It's been a rough year for Canadian retailers as many well known store chains have already been forced to close their doors. Now the struggle to stay in business has hit two more fixtures in the Canadian marketplace, Danier Leather and Le Chateau. Both fashion brands are struggling in recent years as faster and cheaper fashion brands surpass them and online retailers continue to take a large chunk of the market share.
Recently, Danier Leather, with 86 Canadian store locations, has hired Consensus Advisory Services, a boutique investment banking and financial advisory firm, to help it explore strategic alternatives after posting yet another steep decline in sales in the last quarter.
Chief executive officer Jeffrey Wortsman has said, "Danier is working on its business and operational strategy with a view to improving its results." He also adds that, "As publicly disclosed, Danier regularly monitors its stores and under-performing stores may be closed or relocated as leases expire or otherwise as well as look for opportunities for new stores. One of Danier's strategies is to optimize its real estate."
Le Chateau on the other hand has repeatedly turned to its founder, director and majority shareholder Herschel Segal's firm for loans, most recently in June, when it secured $15-million. Le Chateau has been using this money to renovate its stores and bring them in line with their new elevated merchandise offering. However, as of August 2015, Le Chateau will have renovated only 20 of its 219 Canadian stores since it began this process in 2011.
"Note that that is less than 10 per cent of Le Château's total locations …This fact translates to a disconnect between Le Château's more upscale/expensive merchandise and the environment of its stores. Not a good situation to be in for a retailer," according to retail expert Randy Harris of Trendex North America. So far Le Chateau has been forced to close 15 stores in Canada in the past 3 years. As of now there are 219 stores remaining in Canada and 1 in the US.
Stores such as H&M and Zara are the main competition for Le Chateau. Le Chateau can update and carry up to the minute fashion, but chains such as H&M and Zara can restock and get these fashions in store more quickly due to their more robust supply chains. Danier is up against specialty stores such as Rudsak and general retailers such as Hudson's Bay and Winners, which also sell leather goods. And both stores are losing in the online market when compared to massive online shops such as Amazon, which is set to surpass Macy's as the largest online apparel retailer in the US by 2017.
So far Danier, in addition to hiring a consulting firm, has expanded their core leather business to include more down, wool, shearling and cashmere alternatives, as well as trying to offer better pricing so that they can compete with other luxury retailers while maintain the same high quality they are known for.
Le Chateau has not released public statements about their situation, so there is no word on how they plan to improve their situation.