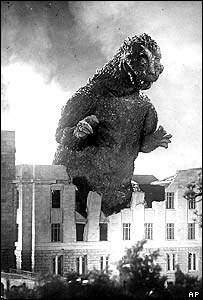 When I was growing up in St. Catharines we had not one, not two, but four movie theaters to pick from. An awful lot for a city our size, but we made good use of them. As time passed and small theaters gave way to 8 screen multiplexes, that original number eventually shrunk down to two. But still, they were our two. We had a Famous Players Silvercity in the south end of town (now an Empire Cinemas) and a Cineplex Odeon in the north. Both theaters were the anchors of our local malls, the Pen Centre and the Fairview Mall respectively. Even though I didn't grow up with these fancy new moviehouses, I still have fond memories. Heck – I even worked at the Pen's Silvercity all through high school. Like many in my community we felt these movie theaters were a part of our lives, even if we didn't go as much as we should have.
As time marched on and DVD's and HDTV's starting bringing a better than cinemas experience to our own living rooms, home movie viewing really began to chip away at the movie theater industry. Had that been the cause of a theater's closure — that we'd simply not been going enough, that they couldn't afford to operate — then we'd have nobody to blame but ourselves for what happened last month in the north end of town. Unfortunately that's not the way things happened.
In early January, the Cineplex Odeon at the St. Catharines Fairview Mall closed its doors for good — not because it wasn't profitable, but because the company that owns the mall decided to exercise the "best use" clause in the theater's lease, kicking them out with less than a months notice. You might be wondering why they'd do that. Well it turns out it wasn't drugs or violence or loitering teens or any other number of reasons that one could justifiably understand. It was so they could make room to bring a Winners/HomeSense to the mall. They tried to justify it as best they could, saying that theaters just don't bring people to a mall like they used to and that a big box store could change that. Considering the mall is already home to Future Shop, Chapters, and Zehrs, I tend to think that the Fairview is a little big boxed out.
I understand that time marches on and things change, but kicking out a cultural landmark in favor of another big box store is just downright insensitive. It goes to show that managing a mall in St. Catharines from an office in Toronto leaves you completely out of touch with the feelings of the community that you're supposed to be marketing to. It's bad business. I can't speak for the whole community, but I can tell you this much – I won't be shopping at the Fairview again any time soon.