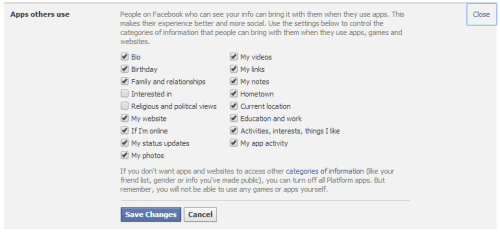 I know many of you are wary of coupons that require you to approve facebook apps that give out the details of your friends and family but you can protect yourself when others like apps by changing these app settings – if everyone does this, it will make liking apps much safer for all users.  Many of us unlike apps after use but they may have saved the information to the company already, so your data is still with them, they just can't use the app to find it again.
Note that you can't hide your friends list, gender or any information you have public on your profile unless you turn off apps completely and you are protecting your data not that of your friends so make sure to share this and let them know.
Uncheck these boxes and next time your friends like an app, they will only see your name, gender, friends list (but your friends will hopefully have hidden their data too) and any public information which you can easily hide.