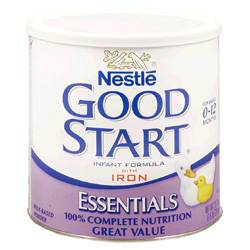 Bumped because many useful comments have been added by doctors and other visitors

If you have a bottle-fed baby at home, take note: according to the FDA, Nestle Good Start infant formula's nutritional content doesn't match up with what's promised on the label. What's more is that the amount of calcium and phosphorous doesn't meet minimum FDA requirements for infant formula sold in the US. The FDA came to these conclusions after an inspection of a Nestle facility in Eau Claire, Wisconsin.
The full letter from the FDA to Nestle is available here. Nestle has yet to comment on the findings, but this isn't the first strike they've had against them regarding infant formula. The Infant Feeding Action Coalition of Canada (INFACT) has long been involved in a boycott of Nestle products due to purported abuses relating to similar products. For more information regarding past claims of poor behaviour on the part of Nestle, you can check out the INFACT Nestle boycott updates here.