As I mentioned in an earlier blog, I used to go to the same grocery store weekly, with roughly the same list yet my bill really varied. We bought the same brands because we were used to them, we picked up whatever looked interesting. Typical shoppers. Now I cringe when I am behind someone with a cart full of items knowing they can save so much more.
Everyone knows the usual rules for not overspending when shopping; shop alone, with a list and never on an empty stomach, but there is so much more to saving on groceries.
Look at the price per unit and per weight. Two similar items can be priced similarly, say a box of granola bars for $1.99 but one may have 6 while the other has 8 in the box. The bars in the box of 8 may be slightly smaller, but you will likely only eat one anyway. Save the calories and the money.
Buy in bulk (when not using coupons). Things like lentils, rice, pasta and spices are often cheaper when bought in bulk if you do not have a coupon. Bulk Barn often offers coupons for $3 off when you spend $10 or more. Buy some containers to store them and save on these items.
Spend now to save later. If you have been trying to save on your groceries for a while, you know that some weeks, the deals are just awful.  Stock up on pantry items or foods that can be frozen when they are cheap.  For example, Metro recently sold extra lean ground chicken for $2.49/lb (reg $3.99/lb on sale).  We went several times and grabbed 4 and stocked our freezer with 12 packs of roughly 1lb each).  Just before Christmas, FreshCo offered pricematching of Grade A turkeys for utility turkeys. I pricematched Food Basics at $0.77/lb for a 12lb turkey, it was under $10 and will make many meals to come.

Buy in season or frozen. Fruit and vegetables are obviously much cheaper (and fresher) when bought in season. If you still want those summer berries, buy frozen. Meats can be high in sodium when frozen, opt for fresh if you are watching the sodium intake.
Do your own food prep. A stir-fry vegetable kit may seem cheaper when you compare it to buying each of the items separately, but you often only need less than half of those items so can use them for multiple meals. Boneless/skinless meats are much pricier than their boned counterparts, a whole chicken can be much cheaper than buying breasts and legs.
Don't be brand loyal. Whether it is because you have a coupon or because a certain brand is on sale – you can save a lot by buying different brands. I have tried many brands because of a discount that I likely would not have bought before joining SmartCanucks but I now love and buy regularly. Don't be afraid to try store brands for those items that do not have coupons, they are often made by the major manufactures anyway.
Meatless Mondays (or any day). Swap out meat for a cheaper protein such as lentils or beans – you will save money and your body will thank you for it.
Check the discount racks. Get to know your store staff and find out when they mark down produce and meat. In some stores (especially the more expensive chains) they mark down meat that is much fresher than other stores so you need to do some investigating to find the best stores. Just by shopping at the right time, you can save 30% on meats and produce. Either cook or freeze them when you get home. This really does depend on the store, comparing my local stores one marks down produce that looks fresher than the full priced produce in another, one very rarely has any mark downs other than breads and another the meat needs to be slimy and green before they would consider marking it down.
Meal Planning. Plan your meals based on sales. I will cover this more in-depth later but you can save a lot of money by planning what you are going to eat so you are not buying last minute items at a convenience store or using items meant for another meal.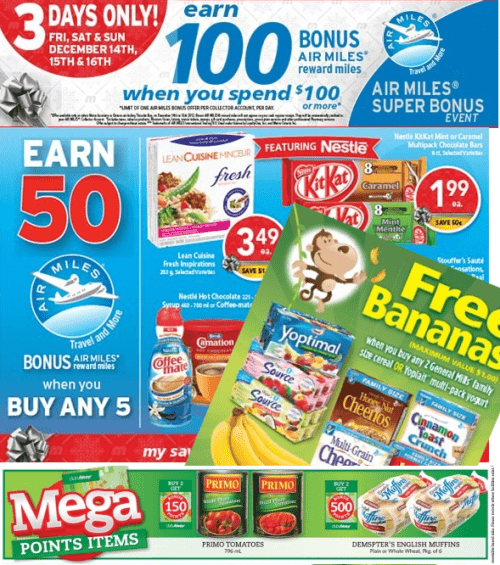 Couponing. As I mentioned earlier, couponing is not for everyone but if someone gave you $20 gift card to a grocery store, you would use it, no? Why not let the manufacturers pay for your products. Some couponers will even trade gift cards for coupons, so you can get free produce for giving away those coupons you don't need.    You may think that there are no coupons for healthy items, but there are.  Last year I got free fruit and yogurt from cheap cereal, produce from $1 ziplocs etc  I will cover this more in-depth too.

Loyalty Programs. Is your store offering bonus points on an item you buy often? Do they have a bonus event when you spend a certain amount.  Usually you can use coupons to reduce this amount.  Do you have a high value coupon that they are offering bonus points on? Use those bonus points to buy the produce and meat.
Each week, we do the work for you – check here for the best lists of deals on meat, produce & grocery staples, coupon matchups and baby deals.
This blog is part of our New to SmartCanucks series, click here to read more blog posts in the series