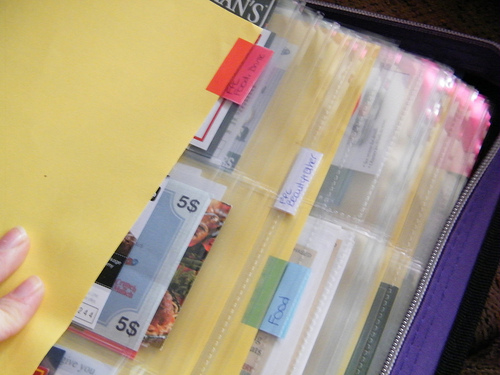 After our recent post & giveaway about coupon organizers from Glow Girl, some people mentioned that they remembered that I used to have a big purple binder and they were interested in how you set up one to stay more organized.  I did find it easier to actually find the coupons I wanted in my binder, but it was not practical when I often shop on my way home from work using public transit.
The pictures were taken a couple of years ago, so a trip down memory lane with the coupons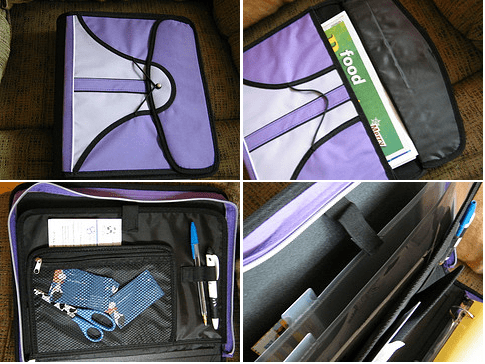 I bought this binder on clearance at Walmart for only $5, as you can see it has lots of pockets to help keep things organized and separated.
I kept my flyers in the front section (picture 2) for price-matching.
In the mesh pocket (picture 3) a scissors and some 'thanks for the trade' business cards from Vistaprint to throw in with trades to save writing it out each time (they gave my username, thanks for the trade and please remember to leave feedback on them).
The section behind the mesh pocket held envies (I sort coupons I know I am using with my shopping list separated by store).
Behind that, there is a 3 pocket section where I would put coupons that I found while shopping or ones I knew I was saving for people in our local trade swapping meets.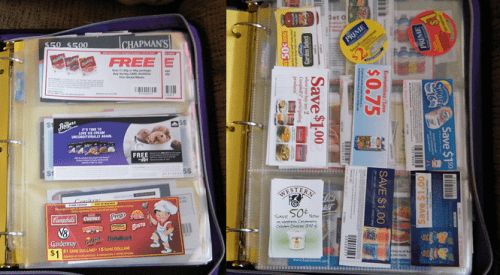 I also used a mix of baseball card holders (packs of 10 sheets at Dollarama) and Currency Holders – these are made for people who collect paper money from around the world and easily hold your larger coupons.  I paid around $15 including shipping from ebay for 20 sheets of currency holders.  Don't put too many coupons in a pocket or the static won't hold it closed and they will fall out (why I also chose a zippered binder).
Mine was separated into these sections: Food FPCs, Other FPCs, Food, Drink, Snacks, Pet, Beauty, Household, Other, Printables & Bonus Points, I find the more sections the harder it is to find coupons when they include a number of items etc