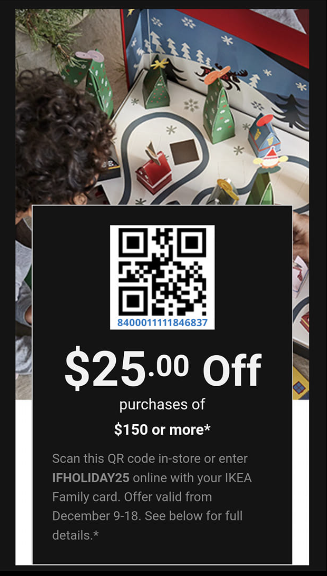 Ikea Canada Family members can get $25 off purchases of $150 from December the 9th to the 18th. This offer is valid both online and in-store. If shopping online you can enter the code IFHOLIDAY25 at checkout with your Ikea Family card. If shopping in-store you can simply scan the QR Code. If you are not signed up at all you can do so by visiting the Ikea Canada website.
Vinterfest is happening at Ikea stores from December the 9th to the 18th. Head over to your location for fun festivities like Ikea Family workshops and visits from Santa. Activities and events will differ by store. JULBORD is happening in Ikea Swedish Restaurants on December the 15th. Tickets must be purchased for this annual special smorgasbord event, and you can get those from your local store. There will be ham, meatballs, marinated salmon, potatoes, eggs, crispbread, cheese, and more! This takes place December 15th from 5-8pm, and prices are $19.99 for Ikea Family members, $24.99 for non-members, and $9.99 for kids.
Click here to shop IKEA Canada and for store events near you.