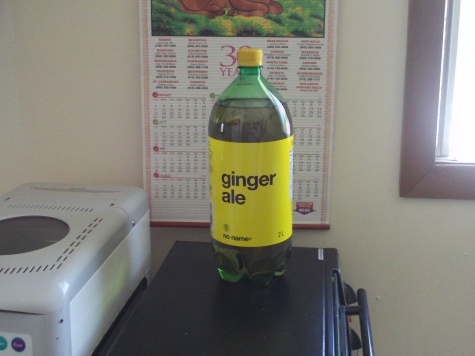 It's a crazy thought, I know. Just hear me out.
Over the past few months Loblaw's have changed the packaging on their No Name brand back to the old school look it had in the 80's; simple black text on a yellow background, no pictures or unnecessary info. That on its own doesn't raise any red flags. But, when that new packaging starts showing up on items that were formerly President's Choice brand? That's a bell-ringer.
Pictured above is a bottle of No Name Ginger Ale that I picked up last night at Zehrs. Until now, Loblaw's has used their President's Choice branding when it came to their in-house soft drinks. I've been buying their PC Ginger Ale religiously for a decade (it's easily the best GA on the market), yet as I looked down the aisle there wasn't a single President's Choice 2L in sight.
Could this be an isolated incident? Is it possible they're just switching their pop from one in-house branding to another? Absolutely. But it's equally possible that the new No Name branding is going to slowly replace the President's Choice label.
Sure it would be complete madness on their part, but then again somebody thought New Coke was a good idea.
Has anyone out there noticed any other President's Choice products that have made the switch?