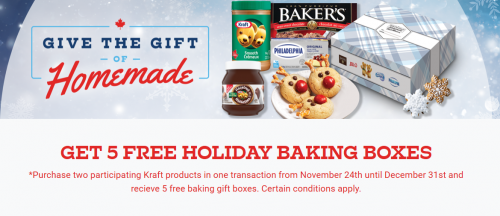 Kraft Canada has a great promotion for the holidays, and while supplies last they are offering five free baking boxes with the purchase of two participating Kraft products.
To participate in this promotion, you must purchase two participating Kraft products on one receipt. The promotion began on November the 24th, in case you happen to have any receipts from the last week where you did purchase two Kraft products that you can upload. If you do not have a receipt, you have until December the 31st to make your purchases. You obviously would not receive the baking boxes until the new year, but you would have them for the following holiday season.
The last day to submit your receipt is January the 15th of the new year, and there is a limit of one set of gift boxes per participant. A list of qualifying products can be found through the link below.
Click here for full details and to upload your receipt.