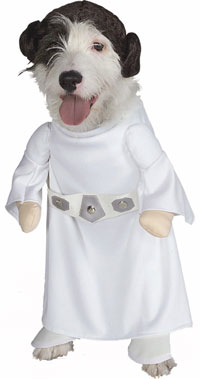 [We're in the last week before Christmas, and everyday until that very last minute we here at SmartCanucks will be bringing you some great but obscure gift ideas for that special someone]
You mustn't forget Fido at Christmas! And what better way to thank him for year-long loyalty than to dress him in drag and let him loose on unsuspecting sci-fi conventioneers? If you happen to know a a Star Wars fan with a lovable pooch at home, you can't beat a gift like this – especially for only $15.95 USD.
Besides – getting your dog bone shaped cookies and Kong Dong's is so 1976. What better way to step boldly into 1977 than with an outift that screams "Help me Obi-Woof Kenobi, you're my only hope!"
Pricess Leia Dog Costume available at CostumeCraze.