[We're in the last week before Christmas, and everyday until that very last minute we here at SmartCanucks will be bringing you some great but obscure gift ideas for that special someone]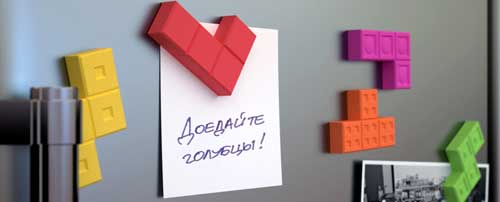 You'll never find anyone who doesn't like Tetris. It just won't happen. Go ahead and try – I'll wait.
See? Tetris is universally loved.
…and so is food! That's why Tetris fridge magnets may in fact be the single greatest idea since the invention of rubber pants. At 278 rubels a set, these are clearly the real deal. That's around $11 CDN for those of you who don't memorize the daily foreign currency exchange charts every morning.
Tetris Fridge Magnets are available from Art Lebedev Studio.