[We're in the last week before Christmas, and everyday until that very last minute we here at SmartCanucks will be bringing you some great but obscure gift ideas for that special someone]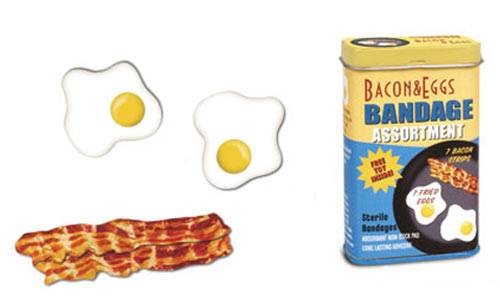 Have an injury-prone friend? How about a breakfast-prone one? There's no better way to cover up those bacon splatter burns than with Bacon and Egg bandages! Amazingly, this is the third time in my life I've blogged about bacon-related bandaging (nothing cauterizes a wound like pork!) But hey – fun bandages don't always have to be about Dora and Care Bears you know. At $6.50 a tin, these make an excellent stocking stuff for anyone on your list.
Bacon and Eggs Bandages are available from the Canadian site Absolutely Fabulous.