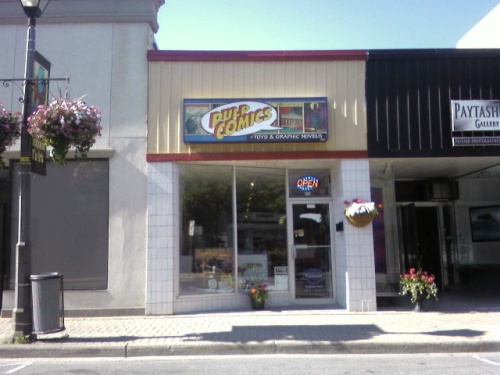 SmartCanucks has a national audience. As such, we normally try to avoid topics that are specific to local small businesses not because we don't love them, but because it's just the nature of the beast. But sometimes a story just needs to be shared.
About 5 weeks ago, a new comic book store opened it's doors on Queen St. in Niagara Falls. Pulp Comics is a cool little shop that offers everything you'd expect in a comic book shop, but that's not the story here. The story is in how the shop came to be, and what they'd like to see from all of us.
Garry Tappay, 71, needed part of a liver. Cirrhosis had wreaked havoc on poor Garry's system, and things were looking grim. If he had to wait on the donors list for his name to be called there was little chance he would survive. That's where Paul came in. Paul Tappay was Garry's 34 year old son. More important than that, Paul was a match. This past spring Paul gave up part of his liver, saving his father's life in the process.
During his lengthy recovery period, Paul had time to think about where he was in life and the things that mattered most to him. Rather than going back to the life he's known before his noble deed, Paul decided he'd take the risk and spend his life involved with something he'd been passionate about since he was 10 years old; comic books. It took a life-changing experience, but Paul was set on a new path in life.
Garry was set on a new path as well. Rather than passing away without a transplant, Garry was given a new lease on life. His son Paul was a superhero, and he'd like you to be a superhero too.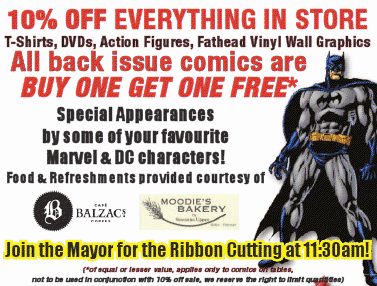 This Saturday is Pulp Comics grand opening celebration. And while all of the bells and whistles of a great grand opening will be there — a ribbon cutting ceremony, costumed characters to meet and greet, and 10% savings on everything in the store (as well as buy one get one free back issues) — the truly important part of the day will be the information on hand regarding becoming a living donor.
If you'd like more information on becoming a living donor, visit giftoflife.on.ca. And if you'd like some great savings on comic books and related paraphernalia, Pulp Comics grand opening celebration will be taking place this Saturday, July 4th, from 11am-7pm. Pulp Comics is located at 4413 Queen Street in Niagara Falls, Ontario.