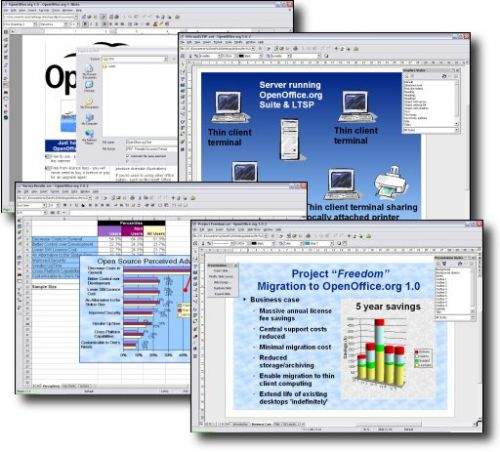 This has been around for a few years now, but I'm always amazed at the number of people who have yet to hear about OpenOffice. OpenOffice is a complete office software solution that offers a suite of programs nearly identical to those in Microsoft Office. It can also work with Microsoft Office file formats, so you don't have to worry about not being able to edit that Excel spreadsheet or Word document that your friend has been working on.
For those of you who think this is too good to be true let me assure you –it's not. OpenOffice is one of the leading products in the open-source community. For those of you not familiar, 'open source" technically means that the code behind the program is freely available for anyone to fiddle with, but the spirit behind it is "everything should be free." You can learn more about it here.
OpenOffice isn't just free for private use, either. If you're an office manager whose paying through the nose for multiple Microsoft Office licenses, I've just earned you your bonus this year. If you're in that scenario you might also want to look into switching your office to Linux instead of Windows — it's just as free, so it'll help to save you a small mountain of cash.
Want to try something different, but don't feel like downloading and installing OpenOffice? Check out GoogleDocs — it's a free, web-based alternative to an office suite. Although it's not nearly as feature-rich, it's usually my spreadsheet and document editor of choice. I like how it ties into all of my other Google accounts and how easy it is to share editing with others.
OpenOffice is available for Windows, Mac and Linux free of charge via openoffice.org.