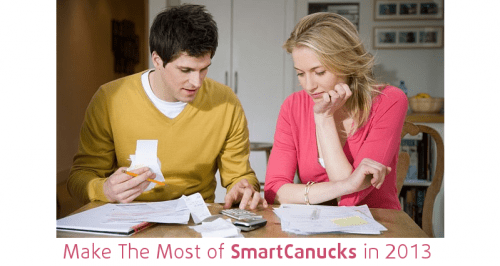 Often we see a lot of new members join SmartCanucks on January 1st as people set goals to spend less, save more or other financial goals. Over the coming days and weeks, we will be posting some blogs about frugal basics and the site in general to help those new members on their SmartCanucks' journey.
The site can be a little overwhelming when you first arrive, there is a lot of information in different sections, the blog will have updates on the latest sales and coupons available online, but throughout the forums and other sections you will find in-store tear pad coupons that people have found, and sales that may interest you but are not posted on the blog as they don't appeal to a wider audience so it is a good idea to check across the site.
Let us know what you want to save on, we are here to help.
Start by introducing yourself in our Welcome Lounge, meet our mods, community helpers and helpful members. If you are interested in couponing, check in with our Adopt a Newbie section where you will be paired with a seasoned couponer and trader who can help you. Then venture into the other parts of the forums and see what interests you.
For those longer term members, it is time to clean out the coupon binders, make a new wishlist, and sign up for those once a year freebies and coupons – a fresh start for the new year.
We are looking forward to helping you save money this year!