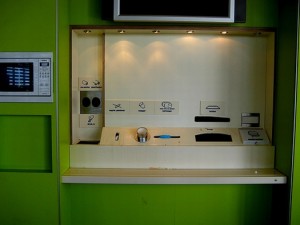 Over the last few years a lot of small tweaks have been occurring at McDonald's restaurants across Canada. One of the most satisfying of these changes for me and my wife has been the inclusion of a recycling option rather than just trash bin. But while our McDonald's offers seperate containers for paper, plastic and waste, Sweden has kicked it up to the next level.
Pictured here are the 8 seperate compartments of a Swedish Mcdonald's recycling center: cans and bottles, drinks and ice, straws and plastic lids, cups, burger boxes + cardboard, trays, food leftovers, and everything else.
It might not seem like a big deal, but taking a peek under the lid of a Canadian McRecycler will show some people don't know what to do. They'll toss cups with lids and straws into paper as well as boxes with foodwaste. It's great to see that kind of problem being solved somewhere.
And the microwave? That's for warming baby food you bring from home. Yet again more proof that the Swedes are kicking our tooshies when it comes to the things that matter.
[via PSFK]