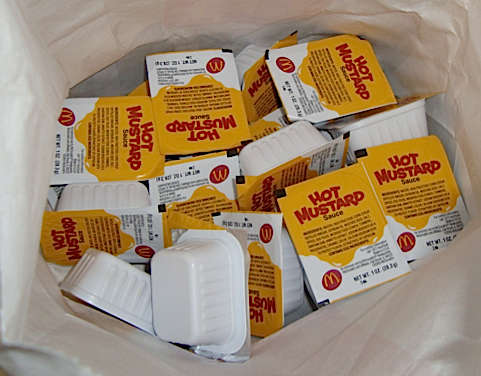 A little over two years ago McDonald's Canada did a strange and bewildering thing — they pulled hot mustard dip from their menu. While not immediately noticeable to those who didn't use it, those of us that did were devastated. That dip was heavenly. There's nothing else on the market like it, and believe me, I know. I've spent the past two years trying every item I've come across with the words "hot" and "mustard" on the label and nothing has even come close. It's become nothing short of an obsession.
That's why, when my wife decided to visit her sister in North Carolina last week, I begged and pleaded for her to visit a US McDonald's. I'd heard rumor that the hot mustard removal was a Canadian thing and could still be found everywhere else on the planet. Rumors like that seem too good to be true, and yet it's hard not to hold out hope. So visit a McDonald's she did, and what you see above is a king's bounty in hot mustard.
That's right — my wife loved me enough to humiliate herself by asking for a bag full of hot mustard. Apparently they didn't just let it go, either. They wanted some answers about this weird behaviour, and she gave it to them full force. But 5 dollars and 10 minutes of shame later she walked out of a US McDonald's with 20 packets of hot mustard in a bag. As I write this, I've already used 4. Nothing tastes better than a Sausage McMuffin and hashbrown dipped in golden mustard. It might sound strange, but there's no better taste in the world to me.
Only 16 left. I'd better start spacing these things out a little better. 🙂