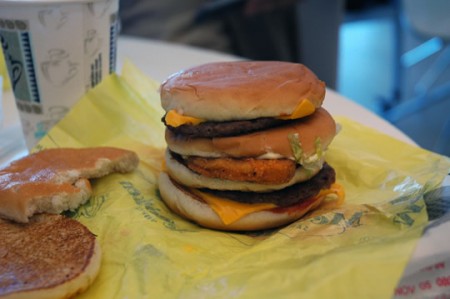 Right off the bat let me apologize for the title of this post. It's not meant in the nasty way you might be thinking. You see, the McGangBang is a real thing, and it seems to be sweeping the nation. The concept is simple — take a double cheeseburger and stick a McChicken right in the middle. The folks over at Eat Me Daily have put together more information than you could ever want on the subject — the McG's history, the spread of it online, stories and videos — you name it, they have it.
I wouldn't be much of a McDonald's connoisseur without pointing out a small factual error. Every picture you'll find of the item features a double cheeseburger and — not a McChicken — but a Junior Chicken. And yes, there is a difference. A big one in my books. The McChicken is a big, juicy, delicious slice of heaven served on a sesame seed bun. The Junior Chicken is an overly spiced, overly cooked, shriveled up piece of nothing. Not a pleasant experience. As the McG seems to be an American phenomenon so far I can't help but wonder if they don't have the real McChicken. A sad state of affairs if true.
I haven't tried a McG, but considering my love of both chicken and burgers, it seems like a no brainer. Maybe I should invent the BBW McGangBang — a double quarter pounder with a REAL McChicken in the middle. Mmmmm.. meat and poultry, together at last.
Thanks to Boo for sending this story my way! 🙂