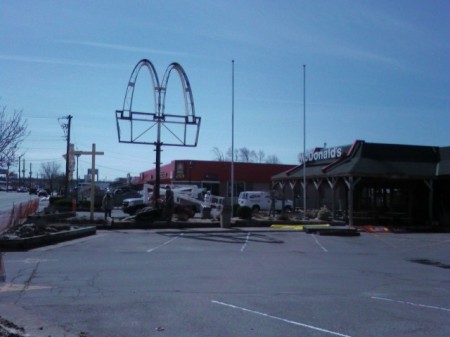 The McDonald's near my house closed at the end of March. Whether it's a sign of the economic times or just a final response to the endless complaints about rude service and filthy conditions isn't for me to say. All I know is that this location has weaved a thread throughout my life;
When I was a little guy my daycare was two doors down. I'd attended more than a few of my friends birthday parties there at that age.
The only memory I have of my paternal grandparents is of them taking me there in a stroller when I was 3.
When I was about 10, my friends and I would take a long lunch from the 6th grade to ride our bikes there and order McPizza.
When my first daughter was old enough, we took her there for her first McDonald's after an amazing trip to the flea market.
Over the past few years it became my walk-to-the-grocery-store-pit-stop for a $1.39 McMuffin.
My wife even worked there for a brief period last summer.
Yep – that building and I sure have a history.
…and now it's gone.